Pairing up with Mary Immaculate Catholic Church to serve their parishioners and students
Mary Immaculate Catholic Church (located on Washington Street) does so much for our center! We love partnering with them on great service opportunities, like participating in their youth ministry core team, babysitting for events and volunteering as playground monitors for their school.
If you have a little gap in your schedule and are looking for a way to get off-campus for a project, walking over to Mary Immaculate to visit and play, to teach or care for kids, can be a really welcomed break from campus life.
If you are interested in the below projects, you'll find the contact information to get involved today!
Please note, ministries that work with youth under the age of 18 require child protection training approved by the Archdiocese of Jefferson City. To learn more about these programs, visit our training pages.
---
Youth Ministry Core Team
The Mary Immaculate Youth Group provides formation and fellowship to high school students preparing for Confirmation. Serving as a Core Member, you'll help with the formation and fun activities that these young Catholics experience while preparing!
Youth group meets on Wednesday nights at 6:00 PM at the Newman Center.
CONTACT DCN. CHRIS KORTE FOR MORE INFORMATION →
---
KNIGHTS OF COLUMBUS
Knights of Columbus are very active within the parish and around Kirksville. Their dedication to Our Lady, and focus on fraternity through service creates a strong community of men that serve the church.
The KoC Kirksville Council Meets 2nd Thursday, 7:30 PM in the M.I. School Cafeteria
Contact: Dcn. Chris Korte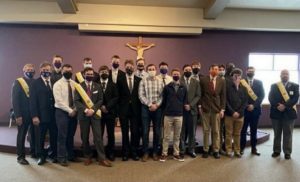 LEARN MORE ABOUT THE KNIGHTS OF COLUMBUS →
---
BABYSITTING FOR PARISH EVENTS
From time to time, Mary Immaculate searches for babysitters to provide childcare while parents attend meetings or events. Sometimes this childcare is hosted at the Newman Center or Mary Immaculate School. If you're interested in babysitting for an event,  you can fill out a Time & Talents form, and be added to the list of qualified sitters.
Contact: Dcn. Chris Korte
---
PSR EDUCATION
PSR (Public School Religion) is a religious educational program dedicated to providing faith formation to students in public schools.
Religious Ed. Program: 
(PSR) Ages 4 years through 8th grade.
Wed. 6:30-7:45 PM during the school year.
---
VOLUNTEERING AT MARY IMMACULATE SCHOOL
Mary Immaculate Catholic School looks for volunteers (and sometimes paid positions) from the Catholic Newman Center for a variety of positions. You can learn more about their needs and the process to volunteer at the school on their website.
Contact: Ann Gray