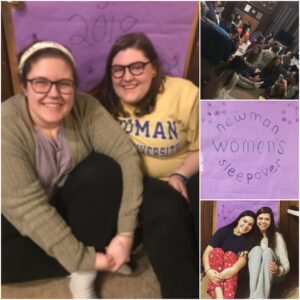 Women of Newman, ran by Newman students Addy Schilling, MaryClare Stocker, and Riley Bass had their first women's social event on Saturday, February 3rd. This event consisted of dinner at the Wooden Nickel followed by a girls sleepover. This was the first of many Women of Newman event that are to come this semester, to help bring all the women together.
There next event will be a Galentine's day party held on February 13th at the Newman Center, complete with homemade waffles and ice cream.
The following two tabs change content below.
Latest posts by Newman Publicity (see all)