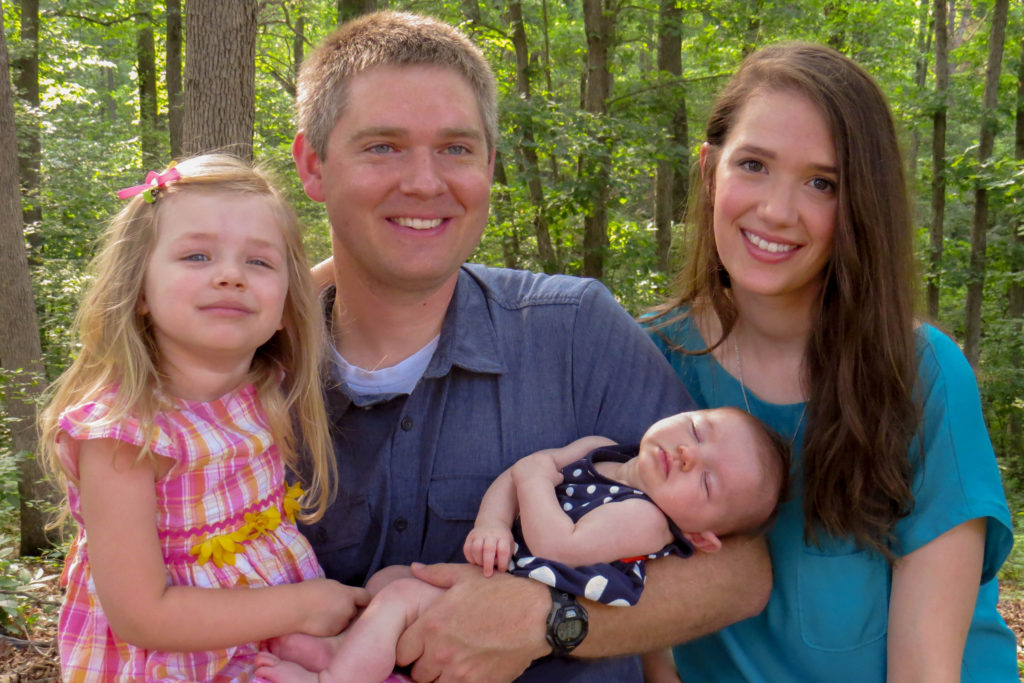 Name:
Ashley Wiskirchen (Buhmann)
Graduation degree and year:
B.F.A Visual Communications, minor in Printmaking (2013)
Current location:
Jefferson City, Missouri
Hometown:
St. Louis, Missouri
Favorite Newman Memory:
There are so many – it's hard to sift through them. Here are a few of my all-star memories:
Playing ultimate spoons, running with a tray full of cookies from Newman to "the nest", and planning, praying and hanging out with my BFFs during Freshman Week
Walking over from the dorm at any time of day or night to find someone I knew just hanging around, willing to chat, and ready to do something fun.
Meeting, dancing and falling in love with this boy we all called "Kevyn with a Y"
Dave Tikaceck smiling so big and playing "Dwell" over all of us while it sprinkled rain as we walked with the retreatants from the church to the KoC hall during Awakenings.
Senior send off, where the whole community made me feel so loved, so known and so well cared for with their advice, gifts and hugs.
Describe your Newman experience in five words:
Loving, welcoming, unwavering faith-filled friends.
I can't believe that I ___________ at Newman.
Got to serve the Newman community on council, in praise band and as Awakenings rector. These experiences formed me both in faith, and as a servant-leader. I carry these experiences now into my family, career and faith communities and am so grateful. I can't imagine my life without the profound growth I experienced at Newman.
What are you up to now?
I am a marketing & communications specialist living in Jeff City. I own my own small-business offering marketing & design services to small businesses and non-profit organizations because I love to serve others who have a mission to change the world. I am part of the Kirksville Newman Alumni, helping to support Newman's good ministries today. I also serve on the leadership team of Biking for Babies, a national non-profit pro-life organization laying it on the line to rebuild the Culture of Life, and I am so passionate about that.
In ten years, I hope to be…
To show Christ's irresistible beauty, truth and love by using my design experience to bring others closer to Him. We're entering a renaissance right now of searching for God among the brokenness we face in this world, and I want to bring the beauty back in any and every way possible.
How does your experience at Newman impact your life today?
Where to start? Newman was an awakening of the faith I always had, and transformed that "cradle Catholic" feeling into an active, personal relationship with Christ and His church. Newman brought me to people that are more like family than friends now, (special shoutout to the Kuehner's for agreeing to be God parents to my first born.. I know, I know.. but before you jump to conclusions, Leslie cancels out Steve and then some, I promise.) Father Bill's wisdom, love and life continue to bring me closer to Christ almost daily. Chris's heart for ministry always points me back to serving and loving others better. The alumni, students and programs still happening there give me Hope for the new evangelization and the deepening of our devotion as young Catholics.
What advice would you give to current Truman students?
Dig deep. I know it feels busy, I know that the stress of school, relationships and everything on your to-do list feels crazy, and I don't want to be that old fogie but: it gets crazier. Take the time now to adore Christ, love and invest in your friendships, and immerse yourself in the teachings of our Church. Then, when you all are dispersed like the disciples in Matthew 28:16-20, you will know that your community isn't smaller post-graduation, it's simply spread across the world, and still growing.
I think I was supposed to submit one old picture.. but that's impossible. Enjoy these gems:
The following two tabs change content below.
Latest posts by Newman Admin (see all)