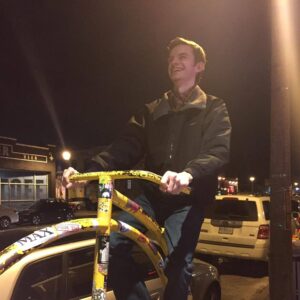 Name:
Samuel Walk
Graduation degree and year:
B.A. Philosophy and Religion, 2015
Current location:
St. Louis, Missouri
Hometown:
Janesville, Wisconsin
Favorite Newman Memory:
Being a part of the praise and worship band
Describe your Newman experience in five words:
Formative development in loving community
I can't believe that I ___________ at Newman.
I can't believe that Phill Wamser set me on fire in the parking lot or that I kissed a paper hippo head worn by Alex Herman at the Newman Center.
What are you up to now?
This past year I graduated with an M.A. in Theology, and I am now studying to be a school counselor at UMSL. I am also the production manager and mission team leader at a soap store whose mission is to hire adults with intellectual disabilities in the St. Louis community.
In ten years, I hope to be…
Working in either a middle school or high school as a counselor and providing counseling services in a rural area.
How does your experience at Newman impact your life today?
It was at the Newman Center where I met my friend Fr. Bill, who inspired me to become a counselor and to work with young people. He, Chris, Lance, and so many other friends were exceptionally supportive to me during both my worst days and my best days. Those friendships have carried me far in life and continue to influence me.
What advice would you give to current Truman students?
Wherever you go in life, though especially at Truman, find a community that accepts you and helps you to become the best version of you. Strive to create that community, be a constant part of it, and welcome others into that family you've helped create. That has been a real gift in my life.
The following two tabs change content below.
Latest posts by Kim Westerman (see all)