Southern Missouri priest was challenged, encouraged as part of Truman State Newman Center
By Maura Shimmens with the Catholic Missourian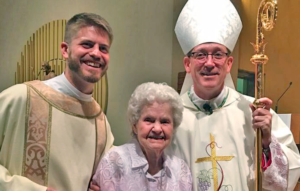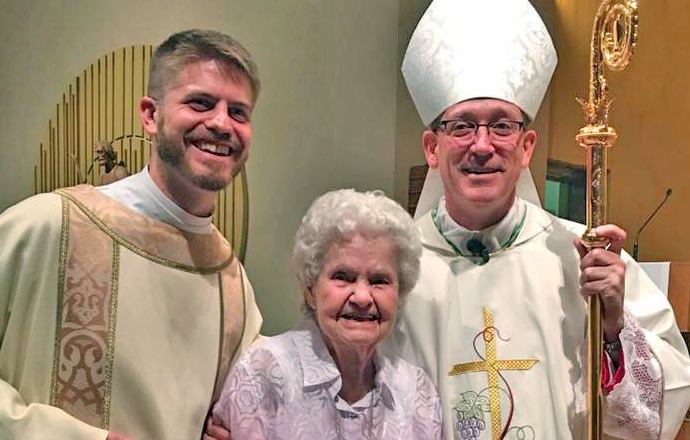 When Father Joseph Stoverink began as a freshman at Truman State University in Kirksville in 2008, he had an inkling of God's plan, but not of His timing.
During his senior year at Notre Dame Regional Catholic High School in Cape Girardeau, Fr. Stoverink's latent desire for the Priesthood awoke.
Though he longed to go to the seminary right away, he made the decision to apply for college.
"The whole time I spent at Truman was something of a fluke," said Fr. Stoverink, who was ordained to the Holy Priesthood this year for the Diocese of Springfield-Cape Girardeau in southern Missouri. "I was still nervous about seminary as a teenager and decided to apply for college as a safe plan and for 'real world experience.'"
"Do not be afraid! The Church needs you. Stay close to the sacraments and ask God what He desires for you." – Fr. Stoverink
God helped him build on that decision. While Fr. Stoverink was looking into transferring schools, opportunities at Truman State kept opening up.
Deeper friendships, work possibilities, the comparatively low cost of education at Truman, and eventually a study-abroad program led Fr. Stoverink to stay put.
"I kept longing to go to seminary, but God saw how much I loved my life where He had brought me," he recalled. "The message I kept hearing in prayer was, 'Stay here and enjoy it; seminary will come in time.'"
He went about acquiring valuable skills and attributes necessary for the Priesthood while taking part in activities at the Catholic Newman Center at Truman State. In a time in life when many students neglect their faith and stop going to church, Fr. Stoverink came into contact with many people within the Newman community who challenged him and helped bring his vocation into focus.
"I still remember my meetings with Chris Korte for spiritual direction on a busy person's retreat," he said of the Newman Center director, "He helped in my decision to finish at Truman."
"Some of the friends I made helped me gain confidence and recognize my abilities," Fr. Stoverink continued. "The men's group taught me a lot about fraternity and humility — a great preparation for seminary life!"
The priests he got to know through the Newman Center also had a great influence on him.
"Father Joe Corel, Father Bill Kottenstoette and Father Chris Cordes were all good role models who seemed to be joyful about their lives as priests," he said. "Special thanks to them for their faithfulness, and loving memory to Fr. Bill for his tireless work as chaplain and as my confessor during those years."
The priests he encountered had a positive effect on him and were content, kind and encouraging.
"They were also human," Fr. Stoverink noted. "Sometimes they'd say the wrong thing or take a false step, or they'd get frustrated or disappointed. But they worked with what they were given and let it all go back to God.
"They showed me there could be peace in a troubled world," he said. Their examples helped him find meaning in his time in spiritual formation at Truman.
"There were many times God felt distant," he said. "I didn't understand what my time at Truman was for, except that it was somehow good and part of the plan.
"Then, there were moments when He was closer than I could even believe," he said. "I learned to pray at Truman, really pray, and to trust. I thank God now for those years." His experiences in Catholic campus ministry attest to its importance on college and university campuses.
"It's so important for those students who want to try a life of faith to have a place to do it, a place to form community, to learn how religion and prayer can make their lives better," said Fr. Stoverink. "It's a place for training leaders in the Church — teachers, social and political servants, good husbands and wives, good priests!
"Many of my fellow students were changed forever by the sense of purpose they discovered in themselves," he said.
The education Fr. Stoverink received at Truman has also become a large part of his ministry.
His degree in Romance languages, including Spanish, is something that he placed importance on. He knew there would be a need for it in the Priesthood, with so many Latino Catholics raising their families in places throughout the United States.
While studying in the Jefferson City diocese, Fr. Stoverink learned that "God is patient, He works through people, and that takes time. Saints aren't made overnight."
Fr. Stoverink is now serving as associate pastor of Cathedral of St. Agnes parish in Springfield and hopes to return to Kirksville sometime during this academic year.
He offered encouragement to young men in college who may be considering a call to Priesthood: "Do not be afraid! The Church needs you. Stay close to the sacraments and ask God what He desires for you.
"Finally, to borrow from St. Augustine, 'Love, and do what you will!'"
Ms. Shimmens, a graduate of Helias Catholic High School in Jefferson City, is a freshman at Truman State University. For the original story, visit the Catholic Missourian.
The following two tabs change content below.
Latest posts by Newman Admin (see all)