What the Catholic Newman Center at Truman State did (and still does) for me.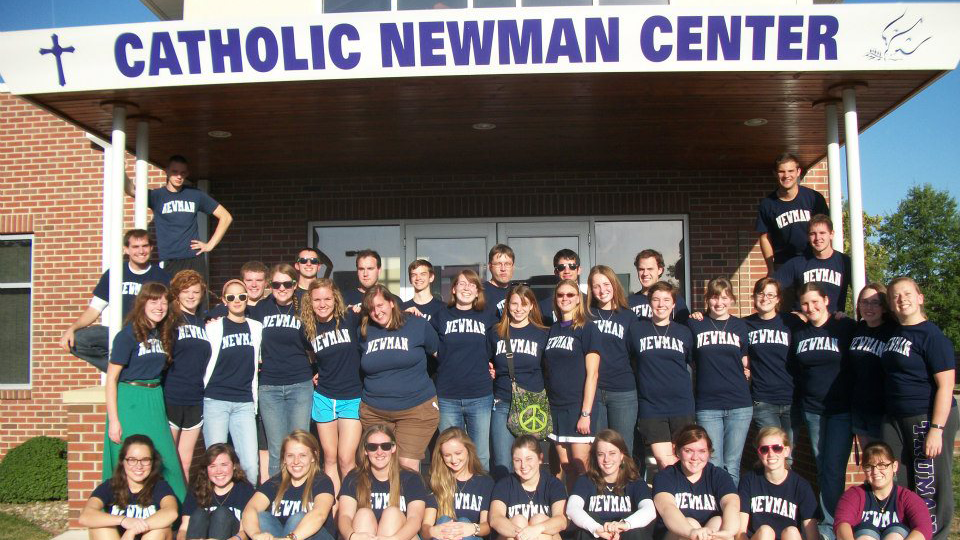 I graduated from Truman State University in 2013, with a BFA in Visual Communications and a lot of adventure ahead.
My time at the Newman Center began freshman year, when an upperclassman who I'd been friends with since High School had encouraged me to visit the center during Freshman Week for – you guessed it – free food. He was really involved there, and we were close, so it felt great to already have a leg-up on finding friends at college.
Freshman week was an amazing introduction to the Newman Community for me, because the exemplified fellowship in ways I really did not expect to encounter at Truman. Being the first of my family to attend a four year university, I know my parents were a little bit worried about how I'd fit into the "college lifestyle" and if I would "be okay" there. I fell into the Newman community like we had been friends for years already.
This spectrum of amazing students from the creative artists to the energetic athletes all the way to the science-focused pre-med students created an environment around me that was so different from any I'd experienced before. Here we were, hundreds of students from campus, majoring and focusing on different things, with our eyes fixed on Christ.
My four years at Truman were certainly not free of anxiety, hard choices and some failures, but the Newman Center provided a core group of people that taught me forgiveness, friendship and faith in turbulence.
Though I earned a BFA from Truman, I learned even more valuable lessons in character, mission and love at Newman. Then chaplain, Fr. Bill, taught me that our lives can be transformative and radical in love for one another. The Council taught me that we are young adults responsible for building and steering the church. The spiritual offerings and retreats taught me that Christ is there – beaconing us even in the mundane – reaching out with loving arms of healing grace.
My time as a leader there inspired me to reach beyond attending Mass and into embracing the charitable responsibility our Church calls us to, and now I look at my life and the groups and work I'm involved in, and I can't help but think, "Newman brought me here."
I believe that whole-heartedly. Truman gave me a professional degree in Visual Communications, Newman gave me the understanding that we form and shape the mission of the church, and instilled in me the confidence and appreciation to use my newfound gifts to serve Him in ways I'd never imagined before.
The following two tabs change content below.
Ashley Wiskirchen
Ashley Wiskirchen graduated from Truman State University in 2013, and served the Catholic Newman Center as Vice President External and Awakenings Rector, among other roles on and off the Newman Council. She now lives in Columbia, MO with her husband, Kevyn, and daughter, Cecelia. She is the founder of Wisk Creative Services LLC, a communications, marketing & design company.
Latest posts by Ashley Wiskirchen (see all)